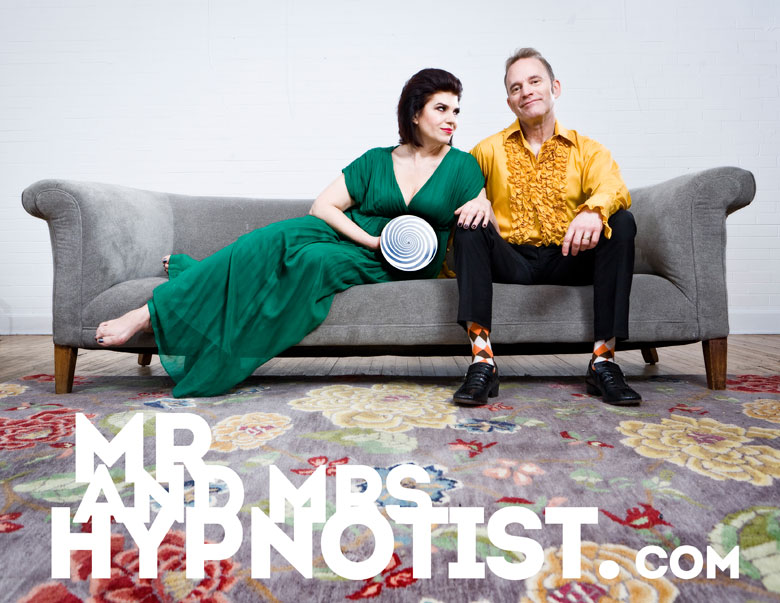 Mr  and Mrs  Hypnotist are an "old school" show-biz couple with a penchant for razzle-dazzle"
-Damian Rogers, EYE WEEKLY
We are Mr  and Mrs  Hypnotist.
Beth Bovaird is a certified hypnotist with the National Guild of Hypnotists.
Paul Irving is a certified comedian. We have a background in show biz that includes writing, directing, acting, radio hosting and stand up comedy.
We studied with the Dean of stage hypnotists, our  mentor, Jerry Valley. We toured and learned from him, mixing classical training with our far out style. We put the "hip" back into hypnosis.
Our sincerity, humour and husband/wife vibe seem to put an audience at ease very quickly. We are thrilled to have performed at such a wide spectrum of venues. Corporate, outdoor alternative music festivals, high schools, underground radio, dinner club and Las Vegas. We had the honour of being asked to perform at the National Guild of Hypnotists convention in August 2010 in Boston. A sold out audience of 400 clinical hypnotists and psychology practitioners loved our style. They told us!
As a child Mrs  Hypnotist took every class under the sun, while Mr  Hypnotist's dad said "no" to guitar lessons.